YB-1450HS/1650HS HIGH SPEED LAMINATING MACHINE AND FLIP FLOP MACHINE
Automatic collecting, front and back placed stacking

Save time and effort, simple and easy to learn

Servo compensation positioning automatic tracking system
INTRODUCTION
High speed Automatic laminating machine and flip flop machine. First the printed sheet and corrugated is laminated accurately and pressed through the conveyor, and then the laminated sheets be stacked based on the set amount in front and back side and slapped automatically and finally the stacked sheets come out automatically. The whole line achieves the high automation of the lamination.
SPECIFICATION
Max Sheet size

YB-1450HS

YB-1650HS

Min Sheet size

1450×1450mm

1650×1450mm

Top sheet thickness

150-500g

150-500g

Bottom sheet thickness

A/C/C/E/F (Corrugated paper)、(four ply corrugated paper)

Fitting precision

±1mm

±1mm

Air consumption

1.2m3/min

1.2m3/min

Measurement

23.6*2.7*3M

23.6*2.9*3M

Machine power

30KW

32KW
BRANCH INTRODUCTION: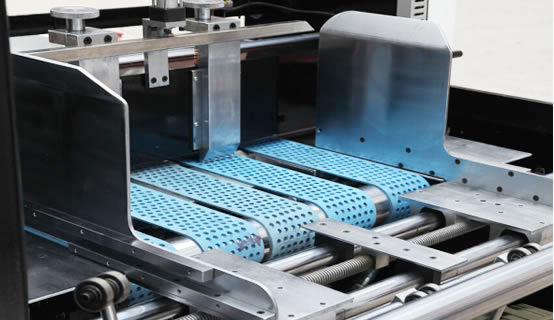 Bottom paper feeding: Use imported Servo motor electric controlling system, with Japan
NITTA suction belt to make suction power inverter, and belt cleaned by water roller;
Patented technology to ensure corrugate and cardboard goes out smoothly and simple
operation
Top sheet feeding mechanism: equipped with high speed auto dedicated feeder, both
paper lifting and feeding nozzle can freely adjust angle to the paper, to ensure that
whether thick or thin paper can be delivered rapidly and smoothly
Electrical system: Designed in the accordance with European CE requirement, ensure
machine stability, high efficiency and low failure. Using man-machine interface and PLC
combination, display all the information, such as warning, error detect, failures, and
operating speed, etc on the screen at a glance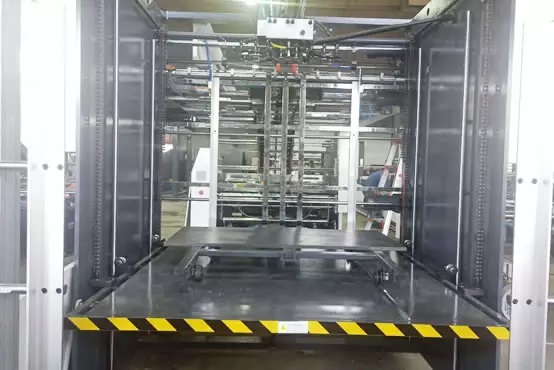 Pre-stack section: pre-stack pile of paper under the condition of non-stop, improve
efficiency. The special design of the pre stack paper frame, save time and effort.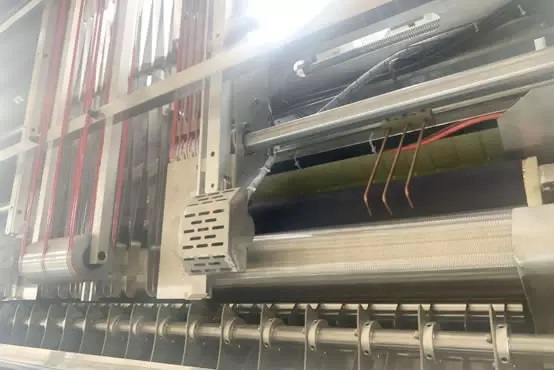 Glue roller: Stainless steel roller, never rust, after narrowly grinding, guaranteed the
minimum amount glue coated evenly. Down roller be cleaned by water roller.
Transmission Part : Imported double toothed synchronous belt drive, equipped with a
tensioning device to ensure the accuracy of the transmission, stable, low noise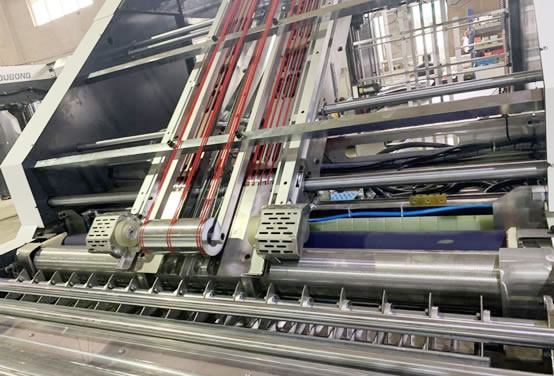 Positioning System: Using groups of photoelectric sensing bottom paper forward relative
position, control top paper on both sides of the servo motor, independent compensation
action, the top paper and bottom paper precision laminated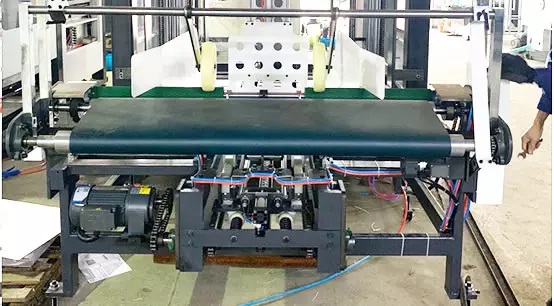 Stacking the laminated sheets based on the set amount in front and back side automatically.